Visa® Debit/Credit Cards
Visa® Debit Card A chip-enhanced Citizens State Bank Visa® debit card offers you a convenient and quick way to access your checking account to make a purchase or to withdraw cash.
Access your funds 24/7 at our convenient ATMs.
Make purchases virtually anywhere Visa® cards are accepted.  The cost of goods or services purchased is deducted from your checking account.
Use an ATM to withdraw cash, make account inquires, or transfer funds.
Chip-enhanced cards offer better protection.  Debit cards with chip technology provide stronger security when used at terminals or ATMs that are chip-enables.  The data stored on the chip is more difficult to counterfeit than magnetically stored data, which offers you better protection against fraud.

A chip-enhanced card is a standard card that contains an embedded microchip as well as a traditional magnetic stripe.  The chip encrypts information to increase data security when making transactions at terminals or ATMs that are chip-enabled.  The chip on your debit card provides additional security only when used at a terminal or ATM that is chip-enabled.
Visa® debit card is available to qualified Citizens State Bank customers.
If your debit card is ever lost or stolen, please call 1-800-472-3272.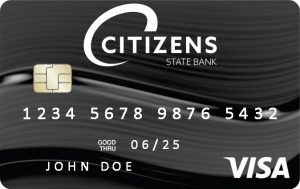 Visa® Credit Card Our VISA® Platinum Credit Card offers worldwide acceptance with personal service from people you know and much more.

Reward points for travel and merchandise*
Tickets good on any airline with no blackout dates
Competitive Rates
Travel Accident Insurance**
Personal service from people you know
The application can be completed electronically or by hand.  Once finished, you must print, sign, and submit it via fax or mail.
                                                                                                                                                                                                                                                                                                                                                                    .
Access Account Information Anytime
It's easy to get the information you need, when you need it.  Your account information is available anytime and anywhere through www.MyCardStatement.com.  Check balances, view transactions, or make payments safely and securely over the Internet.
Consumer Disclosures
*In order to access rewards, your account must be open and in good standing.
**Coverage applies when the entire cost of the fare (less redeemable certificates, vouchers, or coupons) has
been charged to the card. Your account must be in good standing. Restrictions to coverage may apply.
See the card application's Important Disclosures for current terms, rates and fees.  Cards are issued by TCM Bank, N.A. pursuant to a license from Visa® U.S.A., Inc.