Bank News
09/21/2020
USDA to Provide Additional Direct Assistance to Farmers and
Ranchers Impacted by the Coronavirus
Expansion of the Coronavirus Food Assistance Program Begins Sept. 21
The U.S. Department of Agriculture (USDA) is implementing the Coronavirus Food Assistance
Program 2 (CFAP) for agricultural producers who continue to face market disruptions and
associated costs because of COVID-19. Signup for CFAP 2 will begin September 21 and run
through December 11, 2020.
CFAP 2 payments will provide eligible producers with financial assistance that gives them the
ability to absorb some of the increased marketing costs associated with the COVID-19 outbreak.
USDA has incorporated improvements in CFAP 2 based from stakeholder engagement and
public feedback to better meet the needs of impacted farmers and ranchers.
Additional commodities are eligible in CFAP 2 that weren't eligible in the first iteration of the
program. CFAP 2 payments will be made for three categories of payment calculations:
• Sales Commodities, including specialty crops, tobacco, and aquaculture, use a salesbased approach, where producers are paid based on five payment gradations
associated with their 2019 sales.
• Price trigger commodities, including row crops, livestock and dairy, are major
commodities that meet a minimum 5-percent price decline from January through July.
• Flat-rate row crops that do not meet the 5-percent price decline trigger or do not have
data available to calculate a price change will have payments calculated based on
eligible 2020 acres multiplied by $15 per acre.
A complete list of eligible commodities, payment rates and calculations can be found on
farmers.gov/cfap.
Producers can apply for assistance through USDA's Farm Service Agency (FSA). Customers
seeking one-on-one support with the CFAP 2 application process can call 877-508-8364 to
speak directly with a USDA employee ready to offer assistance. This is a recommended first
step before a producer engages with the team at the FSA county office.
All USDA Service Centers are open for business, including some that are open to visitors to
conduct business in person by appointment only. All Service Center visitors wishing to conduct
business with FSA, Natural Resources Conservation Service or any other Service Center
agency should call ahead and schedule an appointment. Service Centers that are open for
appointments will pre-screen visitors based on health concerns or recent travel, and visitors
must adhere to social distancing guidelines. Visitors are also required to wear a face covering
during their appointment. Our program delivery staff will be in the office, and they will be working
with our producers in the office, by phone and using online tools. More information can be found
at farmers.gov/coronavirus.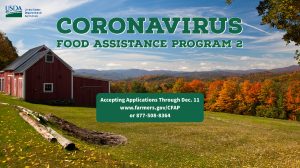 08/31/2020
Welcome Eric Klitz 
Eric Klitz joined Citizens State Bank on June 8th, 2020 as an Agricultural Representative. Eric was born and raised on a farm outside of West Point. He graduated from Guardian Angels Central Catholic High School in 2016. He then attended the University of Nebraska-Lincoln, from which he graduated in May 2020 with a degree in Agricultural Business. From there Eric moved back to West Point, where he enjoys spending time with his family, friends, and helping on the family farm. Eric is excited to learn new things and be given this opportunity that allowed him to move back to his hometown.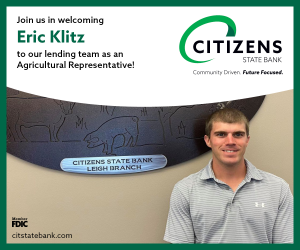 05/27/2020
Coronavirus Food Assistance Program (CFAP) – UPDATE
If you are a farmer or rancher whose operation has been directly impacted by the coronavirus pandemic, you may be eligible for direct relief through the Coronavirus Food Assistance Program. USDA is taking applications through August 28, 2020. For more information, visit farmers.gov/cfap.
05/22/2020
Coronavirus Food Assistance Program (CFAP)
USDA will soon begin taking applications for the Coronavirus Food Assistance Program. As part of applying for the program, you'll need to contact the Farm Service Agency county office at your local USDA Service Center to schedule an appointment. Find your office at farmers.gov/cfap. Your local FSA staff will work with you to apply for the program, and through forms asking for this type of information: • Contact • Personal, including your Tax Identification Number • Farming operating structure • Adjusted Gross Income to ensure eligibility • Direct deposit to enable payment processing Please do not send any personal information to USDA without first initiating contact through a phone call. FSA has streamlined the signup process to not require an acreage report at the time of application and a USDA farm number may not be immediately needed. If you are an existing customer, this information is likely on file at your local Service Center.
What Can You Do Now? While the application process has not started, you can start gathering and understanding your farm's recent sales and inventory.
How Will USDA Accept Applications? USDA Service Centers are open for business by phone appointment only. Once the application period opens, please call your FSA county office to schedule an appointment. Our staff are working with our agricultural producers by phone and using email, fax, mail, and online tools to accept applications.
New to Working with the Farm Service Agency? FSA has county offices located at USDA Service Centers across the country. To find your office and more information on CFAP, visit farmers.gov/CFAP.
---
Paycheck Protection Program (PPP) Small businesses are the heart of our communities, and Citizens State Bank is committed to helping you during this time of uncertainty surrounding COVID-19. The Coronavirus Aid, Relief, and Economic Security (CARES) Act allocated $350 billion to help small businesses keep workers employed amid the pandemic and economic downturn. Known as the Paycheck Protection Program (PPP), the initiative provides 100% federally guaranteed loans to small businesses.
Please take time to review the links below for more information regarding SBA's emergency loans to small businesses. Contact your Citizens State Bank loan officer for further assistance.
Overview https://home.treasury.gov/system/files/136/PPP%20–%20Overview.pdf
Fact Sheet https://home.treasury.gov/system/files/136/PPP–Fact-Sheet.pdf
Application https://home.treasury.gov/system/files/136/Paycheck-Protection-Program-Application-3-30-2020-v3.pdf
---
A message from our President/CEO, Steve Ausdemore
To our customers, The spread of the COVID-19 virus continues to be a local, regional and national concern. At Citizens, keeping our employees safe, our customers safe and doing our part to help slow the spread of this virus is a daily priority. We have initiated cleaning and sanitizing procedures in our facilities. We have implemented other practices as recommended by State and Federal authorities. To further help ensure the safety of our employees, customers and communities, Citizens State Bank will be closed to walk-in traffic at 4:00 p.m. on Wednesday, March 18, 2020, until further notice. We continue to offer a variety of options to serve the banking needs of our customers, including our drive thru services, 24-hour ATMs, online and mobile banking services, and night depositories. In addition, our customers may call in and talk with bank employees and arrange appointments for those services that cannot be accommodated in other ways. We will continue to monitor events as they develop, to adapt our services and practices for the best possible outcome for all concerned and communicate any changes as they arise. We are proud to be your community bank.
Steve Ausdemore President/CEO    
Online and Mobile Banking   As a Citizens State Bank customer, you have the peace of mind that you can bank virtually anywhere, anytime with our Online Banking and Mobile App. With these self-service banking tools you can access your accounts anytime on your computer or mobile device to check your balances, pay bills, make deposits or transfer funds.
Drive Thru and Night Deposit Box Services Our drive thru services will remain open during regular hours and offer most banking services. We encourage our customers to continue to use the night drop boxes available at all of our locations.
ATMs Our ATMs are accessible 24/7. Visit citstatebank.com/locations/ for a complete listing of our ATM locations.
Questions? Call us at 888-474-4261.      
Click below for more news